Face the Race
I am a Warrior 5K Walk & Run
NOVEMBER 4, 2017 at Midland College

REGISTRATION: 8 A.M.
RACE: 9 A.M.
Face the Race was created with the objective of increasing self-esteem in teenage girls ages thirteen to fourteen, a crucial time in a young girl's life. These girls need confidence and the ability to set goals and achieve them. Face the Race is an after-school program held at Abell, Goddard, Alamo & San Jacinto Junior Highs, and it includes physical fitness training and courses on women's health. The girls are taught goal setting skills and are then given the opportunity to reach our program goal of running the 5K race in November. Every girl that finishes the program walks away with pride and high self-esteem because she knows she can set and reach goals.
Online registration is now closed, but you can still register at Midland Athletic Company through Friday evening and Saturday morning beginning at 8am at Midland College (race location).
More information or questions? Email: JLMfacetherace@gmail.com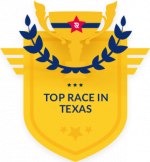 Save
Save
Save
Save
Save
Save
Save
Save
Save
Save